Making the decision to pursue health science education is a deeply personal one. It involves assessing your strengths, interests and values.
You might have a strong desire to serve humanity, hopes for a high-paying career, a passion for science or any combination of characteristics. Students often feel pressure from family or peers to go into healthcare professions, or might be influenced by media.
But each student owns his or her process for decision making about a future in the healthcare world. Your choice must be self-reflective and experiential, and not merely one long checklist of activities, courses and test scores.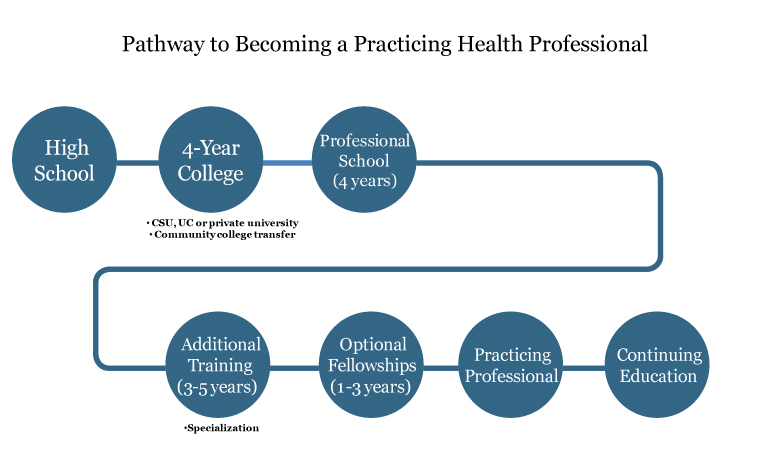 Choosing medicine, pharmacy, nursing or any other program is not one decision but a series of decisions based on experience.
You will need to continually assess your academic readiness and skills in science. You will need to get involved in healthcare and community service to see what these jobs are really about and to learn about the people you will serve.
And you'll need to think deeply about what's important to you to have and achieve in your life.
To guide students, a pre-health course flow chart is available.  Please note that this chart only lists the commonly required courses and is not exhaustive of every course that may be required. It is intended only to guide students through the biology, chemistry, physics and math sequences. Please consult the current UC Merced Catalog for additional course information.
Workshops
Each new pre-health student is required to attend one introductory workshop before meeting individually with the pre-health advisor. These workshops are offered every semester and provide new pre-health students with the basic information to get started toward careers in health. The current semester's workshop schedule can be found here.
The Center for Career and Professional Advancement
Students are encouraged to meet with career counselors in the center to explore career options that meet their interests and preferences. The center has a full range of programs and services to help you find and achieve the career you feel passionate about. Schedule an appointment by calling 209-228-7272 or by visiting the office on the second floor of the Student Services Building, Room 230
Other Resources
Students exploring pre-health career options should also research the websites of the professional schools to which they intend to apply. The schools within California are listed within their respective areas on this website. 
Also, students are advised to review the health career information at ExploreHealthCareers.org. The site contains 100-plus health careers with information on how much education is required and earning potential for each career.
A list of frequently asked questions for students exploring pre-health is available and should answer some fundamental questions.